Start text
Sports Facilities
SUBARU General Sports Center
 The largest indoor sports facility in Mitaka City, SUBARU General Sports Center is equipped with a main arena, swimming pool, and training room, and can be used for anything from casual training to competitive sports.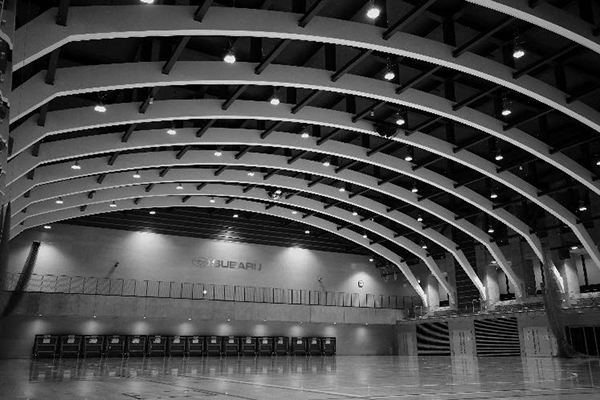 Address: 37-1, Shinkawa 6-chome
Tel: 0422-45-1113
Hours: 9:00 a.m. to 10:00 p.m.
Closed: 4th Monday of the month and during the year-end/New Year holidays
Main Facilities: Main arena, sub-arena, martial arts area (two rooms), small sports room, light exercise room, multipurpose gymnasium, indoor pool, training room, running path and sports room.
◆Facility Usage Procedures
A group wishing to use the facility must complete group registration before it can make reservations through the Mitaka City Lifelong Learning Facility reservations system. Three of the facilities—the swimming pool, training room, and running path—are also available for individual use as long as they are not reserved for events such as sports competitions. The fees vary depending on the facility. Mitaka City Lifelong Learning Facility Reservations System
http://www.yoyaku.mitaka.site/
Osawa Sports Ground
Address: 7-1, Osawa 5-chome
Facilities: Baseball fields, softball/youth baseball fields, practice area, soccer/rugby field, tennis courts, multipurpose sports area, and a meeting room.
Nakahara Sports Children's Park
Address: 34-1, Nakahara 4-chome
Facilities: Area for jogging, ball practice and other light exercise.
Iguchi Special Grounds
Address: 6, Iguchi 1-chome
Facilities: Youth softball field and youth soccer field.
Tennis Courts
Shinkawa Tennis Courts 23-13, Shinkawa 6-chome Four courts
Gateball Grounds
Shimorenjaku Gateball Grounds 9-2, Shimorenjaku 9-chome Two courts
Private Sports Facilities Loaned to the City
ICU Baseball Ground/Archery Ground,  10-2, Osawa 3-chome
SUBARU Gymnasium Co., Ltd., 9-6, Osawa 3-chome
Inquiries: Sports Promotion Section, Sports and Culture Department (ext. 2933)
Metropolitan Sports Facilities
Nogawa Park, Osawa 6-chome Eight tennis courts and two gateball grounds.
Inquiries: Nogawa Park Service Center(Tel: 0422-31-6457)
Inokashira Onshi West Park, Shimorenjaku 1-chome Six tennis courts and multi-purpose athletic grounds.
Inquiries: Inokashira Onshi West Park Maintenance Office (Tel: 0422-44-3796)
Open Elementary and Junior High School Gymnasiums
 The gymnasiums, grounds, and tennis courts of municipal elementary and junior high schools are left open as a local sports facility for city residents.
  Types of Individual Sports: Ping-pong, badminton, tennis, calisthenics, and basketball.
* For information on the facilities and their schedules, please read the city bulletin or call the Sports Promotion Section.
Inquiries: Sports Promotion Section, Sports and Culture Department (ext. 2932)