Municipal Office Information
Start text
Mitaka Municipal Office
 The Municipal Office is located in the Mitaka Civic Center (Shimin Center), which is a facility that contains various facilities such as the Mitaka City Public Hall (Kokaido) and "San San Kan" Public Hall (Kokaido San San Kan). With a total of around 27,000 square meters of space, it is a comprehensive service area for city residents.
Address: (Inside the Mitaka Civic Center) 1-1, Nozaki 1-chome, Mitaka City
Hours: Weekdays, 8:30 a.m. to 5:00 p.m.
Closed: Saturdays, Sundays, national holidays and during the year-end/New Year holidays (December 29 through January 3)
How to Get There: Buses from JR Mitaka Station South Exit, Kichijoji Station South Exit, Musashisakai Station South Exit, Chofu Station on the Keio Line and Sengawa Station have routes via Mitaka Shiyakusho-mae.
Tel: 0422-45-1151 (Main Switchboard)
URL: https://www.city.mitaka.lg.jp
(Automated translation services are available in English, Chinese and Korean.)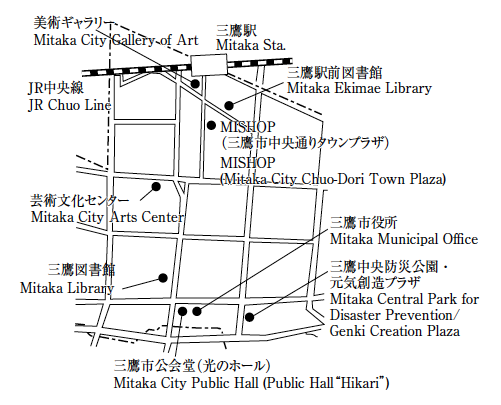 Mitaka Municipal Office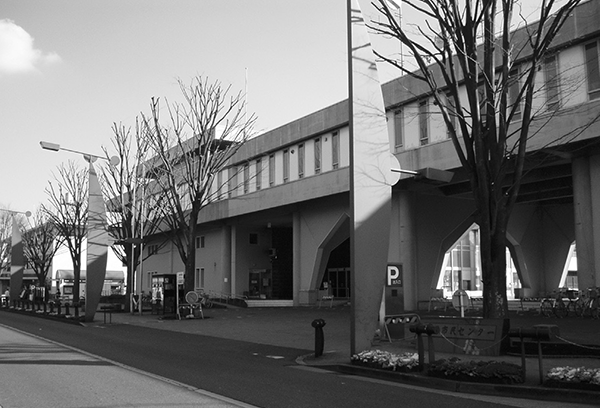 Information on Administrative Services Offered During Non-business Hours (Holidays and Evenings)
 The Municipal Office has holiday/night staff in the building even during non-business hours. Their main responsibility is to protect and safeguard the Mitaka Civic Center, including the Municipal Office, as well as to handle all types of inquiries from residents in the city. (Depending on the type of inquiry, some are handled the following day.)
Holiday/Evening Reception Area: At the foot of the slope on the south side of the Municipal Office.
Types of Services: Handling of all types of notification forms, such as notifications of birth, marriage and death; Issuance of cremation permits; Handling problems occurring on public roads and public property (such as sinking roads, etc.).
Inquiries: City Building Management Subsection, Contract Management Section, General Affairs Department (ext. 2255)
Information on Municipal Office Branches
 For people who live a long way from the Municipal Office, there are branches of the Municipal Office located in four local neighborhoods.
Services for Foreign Residents Offered at Municipal Office Branches
Applications for a notification of moving to a new address
Handling of tax and fee payments
Seal registration ("Inkan Toroku") and issue copies of the Mitaka citizen card
Seal registration certificate ("Inkan Shomeisho") copies
Copies of residence records
Copies of tax certificates (some certificates may not be handled)
Various procedures for notification cards or individual number (My Number) cards (although branches cannot handle certain procedures)
Location and Hours of Municipal Office Branches
Mitaka Ekimae Branch
Mitaka Ekimae Kyodo Building 2F, 24-3-202, Shimorenjaku 3-chome (two-minute walk from the south exit of JR Mitaka Station)
Tel: 0422-42-5678
Hours: Weekdays, 8:30 a.m. to 7:30 p.m.; Saturdays and the 2nd, 3rd and 4th Sunday of the month, 9:00 a.m. to 5:00 p.m.
Mitakadai Branch
13-2, Inokashira 2-chome (three-minute walk from the south exit of Mitakadai Station on the Inokashira Line)
Tel: 0422-42-0511
Hours: Weekdays, 8:30 a.m. to 5:00 p.m.
Mitaka Tobu (East) Branch
29-35, Nakahara 1-chome (in front of Shinkawa-Nakahara Community Center Iriguchi bus stop, Odakyu Bus)
Tel: 03-3326-8805
Hours: 8:30 a.m. to 5:00 p.m. on weekdays
Mitaka Seibu (West) Branch
28-11, Nozaki 3-chome (in front of Osawa bus stop, Odakyu Bus)
Tel: 0422-33-4531
Hours: 8:30 a.m. to 5:00 p.m. on weekdays
Automated Dispensers for Certificates
 Automated dispensers are available so that copies of residence records ("Jumin-hyo") and seal registration certificate ("Inkan toroku shomeisho") can be issued to residents during nonbusiness hours, such as during holidays and at night. To use an automated dispenser located at the Mitaka Municipal Office, Mitaka Ekimae Branch, or Mitakadai Branch, you will need a seal registration and Mitaka citizen card, your individual number card, or a basic resident registration card, as well as a code number. To use a multifunctional computer terminal located at a convenience store, post office, etc., you will need an individual number card or a basic resident registration card for which you have set a code number. You can apply for a card at the general counter of the Civil Affairs Section on the first floor of the Municipal Office, or at any branch office.
Hours
Automated dispenser hours: 8:30 a.m. to 9:00 p.m.
Convenience store terminals: 6:30 a.m. to 11:00 p.m. (except between December 29 and January 3)
Inquiries: Notification and Certification Subsection,Civil Affairs Section, Civil Affairs Department (ext. 2326)
"My Number" Card (Individual Number Card)
This plastic card has an IC chip, shows the cardholder's ID photo as well as various information, such as the holder's name, address, date of birth, gender and "My Number" as registered in your resident record. The individual number card can be used as official ID, as well as to acquire certificates via automated dispensers and at convenience stores. Unlike a residence card, you are not obliged to carry this card with you.
Application Procedures
Affix your ID photo to the issuance application form enclosed with your notification card, and use the enclosed return envelope to submit your application. You can also apply via the "My Number" card application website from your computer or smartphone. When you receive your issuance notification, please come to pick up your card at the Mitaka City "My Number" Special Service Counter (Mitaka Municipal Office 1F, Service Counter No. 4).
Notification and Certification Subsection, Civil Affairs Section, Civil Affairs Department (ext. 2326)