Commonly known as "MISHOP." This association has the goal of "encouraging international exchange at a grass-roots level with citizens working on a volunteer basis, so that foreign residents living in the area can lead more comfortable lives in Japan."
Location: Mitaka City Chuo Dori Avenue Town Plaza 4F, 30-12, Shimorenjaku 3-chome
Tel: 0422-43-7812
Fax: 0422-43-9966
E-mail: mishop@mishop.jp
URL: http://www.mishop.jp/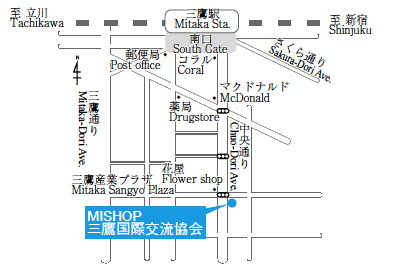 Location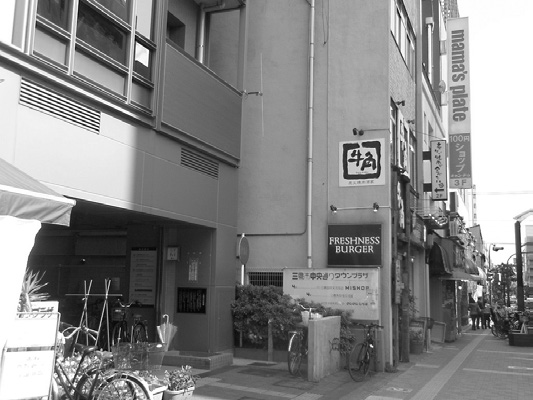 Main Programs
Friendly Exchanges and Supports Through the Japanese Language
"Japanese Lounge"
 This program deepens the understanding of the Japanese language and personal ties as fellow human beings through exchanges in Japanese between Japanese and foreign residents. MISHOP offers a Japanese Lounge free of charge on Tuesdays from 10:30 a.m. to 12:30 p.m. and on Fridays from 2:00 to 4:00 p.m. at the MISHOP meeting room. It also has an English Lounge.
Japanese Language Classes
 Basic conversational Japanese necessary for everyday life—such as for shopping or for conversations over the telephone—is taught in small groups. The classes are held every Saturday morning from 10:00 to 11:30 a.m. at MISHOP. The participation fee is ¥2,000 (collected at the first session only).
Children's Classes
 Help with the Japanese language and school subjects is offered to children with ties to foreign countries who attend a municipal elementary or junior high school in Mitaka City so that they can lead enjoyable and fulfilling lives at school. The classes are held every Saturday morning from 10:00 a.m. to noon at MISHOP.
Language Support
 Volunteers are dispatched to schools to help children with ties to foreign countries who have recently transferred into a municipal elementary or junior high school in Mitaka City so that they can grow accustomed to life at school in Japan as quickly as possible.
LLJ (Let's Learn Japanese)
 These are one-on-one Japanese language lessons offered by Japanese volunteers. The lessons are held at MISHOP lounge. Only a one-time registration fee of ¥1,000 is required.
MISHOP WORLD "Mitaka International Exchange Festival"
 This is a major event with the goal of promoting understanding of different cultures by becoming familiar with various cultures. This event is held at Inokashira Onshi West Park, and attracts more than 40,000 visitors and participants every year. With music and dance performances from countries around the world, there are also over 100 tents offering the opportunity to meet people from all over the world, ethnic cuisine and folk craft items. This event has a program that makes the entire day festive.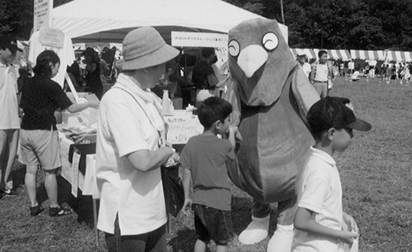 A Variety of Exchange Programs
 There are various exchange programs throughout the year, such as "Eat Around the World!" in which cooking from various countries is taught by a person from that country while enjoying friendly exchanges, "Walk Rally" (in May), "Farewell Party" (in December), "Ski Tour" (in February) and more.
Programs to Promote International Understanding
MISHOP also has programs to promote international understanding, such as the "International Understanding Lecture," in which specialists are invited to speak on timely and hot news such as the current world situation.
In addition, MISHOP conducts children's world culture experience programs and introduces foreign resident lecturers to elementary schools, junior high schools, and high schools according to their needs as part of an educational program on international understanding.
Membership Group Activities
 (1) Enjoy English Speaking (E.E.S.), (2) Let's Enjoy Current English, (3) International Issues Discussion Club, (4) Reading Articles of Time Magazine, (5) Hot Springs Research Association, (6) Saranban (Korea language group),(7) Ryuenkai (Chinese language group), (8) Study Tour Group, (9) Let's Play 'Go', (10) Women's Reading Club and more.
 Inquiries: MISHOP Tel: 43-7812